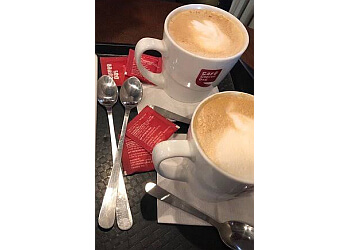 Cafe Coffee Day is a well-known cafe in the heart of Amravati. The friendly pocket menu makes it a warm place for students. Cafe Coffee Day serves delicious breakfasts, well known for its cold coffee. The budget-friendly menu makes visiting time and again even more attractive. Their vibrant lighting indoors and the usual yet comfortable chairs in an open space make this place perfect for a relaxing evening. Dine-in, Takeaway and online orders are available.
Speciality:
Tandoori Chicken, Spinach 'N' Corn Cheese, Smoked Chicken Sandwich, Peppy Chicken Roll, Crispy Veg Wrap, Afghani Chicken Biryani, Classic Filter Coffee, Tropical Iceberg, Hot Gourmet Cocoa, Cappuccino, Americano, Macchiato, Cranberry Latte, Cold Teas, Cafe Mocha, Revive With Butterfly Pea Flower, Glide With Green Mint, Masala Chai & Espresso
₹Price:
Cappuccino-₹159
Cafe Latte-₹169
Cafe Mocha-₹189
Greek chicken Sandwich-₹189
Paneer Tikka Sandwich-₹169
Spinach And Corn Cheese Sandwich-₹159

Gourment Belgian Hot Chocolate-₹199
Green Mint/Assam Tea-₹129
Garlic Bread-₹99
Chilli Cheese Toast-₹109
Toasty Paneer Garlic Bread-₹129
Banana Cake-₹119
Chocolate Muffin-₹129
Choco Fantasy Pastry-₹129.

Contact:
Working Hours:
TBR® Inspection Report: